Every year the Bahamas is ranked as one of the best travel destinations. You'll often find the Bahamas listed in categories like top destination weddings, spring break, honeymoons, family vacations, and cruises. But do you need a passport for the Bahamas?
We make it simple to understand if you need a passport for your trip to the Bahamas.
Passport Requirements for the Bahamas
If you are traveling by plane, you must have a U.S. Passport.
If you are traveling by sea, you can use a passport book or one of the following documents:
passport card
trusted traveler card such as NEXUS, SENTRI or FAST card
enhanced driver's license (only some states have these).
Please note that the passport card can only be used if you are traveling to the Bahamas by sea-it's not valid for air travel. There are some exceptions to passport requirements for some international travel options. We will outline them in the next section. But please note, the US Dept of State and most cruise lines strongly recommend that all travelers should carry a valid passport during their cruise or international trips. Emergency situations may arise that would require you to fly back to the US or the next port on the cruise trip. Additionally, many travelers have found out the hard way that a passport is needed- even in the case of medical, family, personal or business emergencies. For this reason, we always recommend every traveler carry a valid passport anytime they leave the country.
Passport Exceptions to the Bahamas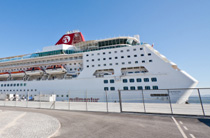 There are, however, a few exceptions to the above rules. For example, if you are traveling to the Bahamas on a closed-loop cruise, a cruise that begins and ends at the same US port, you can use your driver's license and birth certificate instead of a passport.
There are also a couple of exceptions for children.  Children under age 16 can use a birth certificate, naturalization certificate or certificate of citizenship IF they are traveling to and from the Bahamas by sea. Children under age 19 can also use birth certificates IF they are traveling by sea and IF they are traveling with a school group, a church group or a social or cultural organization supervised by an adult.
Just like adults, children in any age group must have a passport book to travel to the Bahamas by plane.
Visa Requirements to the Bahamas
A visa is not required for U.S. travelers to the Bahamas if the trip is less than 90 days. For tourists with longer itineraries or business travelers, you should contact the nearest Bahamas consulate or embassy.
If the passport requirements have caught you off guard, RushMyPassport can help. We hand-deliver your application to the US Department of State and then rush your new passport back to you, resulting in processing times as low as 24 hours.